Brovia Barolo 2017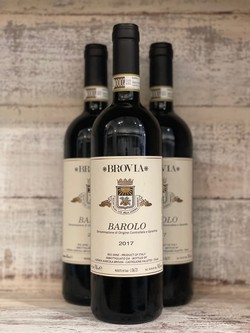 "Wait - 2017 Brovia Barolo is available?" we responded to the distributor's email, almost dropping our computer, shattering it on the tile floor. In most years, this wine disappears in seconds. We can't believe this is our inaugural Daily Offer at Four Eleven Wine.
In years past, Fratelli Brovia was a sommelier secret not known among the more prominent names in Barolo that garnered huge attention, points, and prices. It was easy-ish to find, absolutely delicious, and it was available by the case. The wine always drank better than wines twice the price. It was our house wine for years —no shame drinking a bottle on a Tuesday. However, after a string of high 90 and 100 point scores for their single vineyard wines, Brovia is no longer a secret. Sadly, it's also no longer easy to find. In fact, like the other letter B wineries of Barolo - Burlotto and Bartolo, it's downright painful to find.
Founded in 1863, Giacinto Brovia founded the Brovia estate in Castiglione Falletto, in the heart of the Barolo district. Today, fourth-generation Elena and her husband Alex Sanchez run the family estate.
I can say that I don't frequently get star-struck during winery visits, but during our first visit to Brovia, I remember thinking, "I can't believe I'm here." I also remember Alex sitting us at a small table in the winery, apologizing that they don't have a showplace facility with all the pretty things to see. Thinking to myself - uh, in Walla Walla, we make wine in a steel shed next to a cement factory...
However, I think this display of humility is what makes Alex and wine Brovia wines absolute standouts. It shows in the wines - the attention to detail, the obsessive thought about the vineyards, everything that goes into the process of creating these wines, and the experience of those enjoying them. Where they have invested substantially is in vineyards, where it matters. Any Barolo lover will know these parcels - Rocche, Villero, Garblét Sue in Castiglione Falletto and Brea in Serralunga. In all, the family farms about 26 acres of Barolo, with another 20 or so acres planted to other varieties.
The 2017 Brovia Barolo is an absolute "wow" wine. It is also a wine that will disappear quickly. We won't have another opportunity to offer this again until the next vintage. Pick some up today.
From the importer: The Brovia wines are vinified in the classic style. Grapes are lightly crushed before going into the fermentation tanks. The length of the fermentation period depends on the grape variety but the Nebbiolo for various Barolo cuvées can extend as long as a month or more at temperatures between 28 and 30 degrees Celsius. The Baroli are aged for at least two years in 30 hectoliter barrels of Slavonian and French oak. The wines are then bottled without filtration and released to the market after an additional 18 to 24 months of bottle-aging. This cuvée is a blend of the younger vines found in the various "crus". Since its inception, the Barolo has offered a stylish take on the Brovia approach to this appellation. There is never excess here, no attempt to showboat or to flaunt an image of power. Above all, balance is the key element in faithfully rendering a Barolo of great stature. You will find here the classic grainy tannins, the long, mineral-inflected finish, the aromas of late-summer roses and flavors of dried cherries. After a fermentation of approximately three weeks, the wine is aged for at least two years in a combination of large and medium-sized barrels of Slavonian and French origin. Annual production is in the neighborhood of 13,000 bottles of which 3,000 are dedicated to the US market.