La Spinona "Bricco Faset" Barbaresco 2013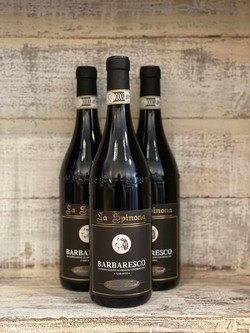 A traditionalist Barbaresco with an impeccable pedigree! Thankfully still a part of the "unknown" or "in-the-know" community - so it is still an incredible deal. Single Cru. Double Digits. Brilliant!
A classic discussion 20 years ago of Barolo and Barbaresco would center on the power of Barolo vs. the elegance of Barbaresco. In other words, the debate revolved around tannin levels, with Barolo much more pronounced and the wine undrinkable for years. Today, because of changes in both climate and the way vineyards are managed, the discussion for the entire Piedmont region should focus on modernist versus traditionalist winemaking. At Four Eleven Wine, we significantly lean towards the traditionalist side - with wines made with little to no intervention, terroir focused with high acid and firm tannins, and, most importantly, larger neutral cask over small new French barrique.
In recent years, both sommeliers and collectors rediscovered many of the traditionalists in Piedmont. Names such as Mascarello, Rinaldi, and Conterno, have been rediscovered with a corresponding stratospheric rise in price. Seemingly, there are few "real values" left in the Langhe, the home of Barolo and Barbaresco.
Enter Pietro Berutti of La Spinona. Although he is the fifth generation to make wine at La Spinona, the domain is relatively unknown. Most importantly, this wine hails from the famed Falset Cru, adjacent to Asili. This south-facing, steep, organically farmed vineyard sits in an amphitheater overlooking the Tonaro River. More importantly, the Beruttis own 3 hectares, including the 'Bricco or Bric" of the hill - the top crest, which is more often than not the premier part of the vineyard. The most famous wine from the vineyard, Roagna, would be double the price if one can find it. We have to say; this wine is very close in quality.
The winemaking at La Spinona is traditional - long fermentation and maceration in neutral vessels with native yeasts. The wines are then aged in large neutral Slovenian or similar cask. The main themes - earth over fruit, freshness over extraction and elegance over power. Kerin O'Keefe, who we believe is the leading wine writer in Piedmont and Tuscany:
"Classic scents of dark-skinned berry, chopped herb, dark spice, and new leather take the lead in this wine. On the firm, elegant palate, youthfully assertive, noble tannins support dried Marasca cherry, licorice, and clove flavors while bright acidity lends balance."
So there's a dog on the label? Four Eleven wine rule number one - no animal wines. Yes, this wine has a dog on the label. But there is a story. From the importer's website," As the legend goes, this particular dog, Baica, received her place of honor on the label for an act of great heroism. She saved Berutti's only son from drowning in the irrigation lake when he was a baby. The son then became a veterinarian to save the dogs and later obtained a degree in agronomy to take care of the vineyards." We are suckers for a great animal rescue story, so we will let it slide. Still sad about Old Yeller…