Mullineux "Granite" Syrah, Swartland, South Africa 2016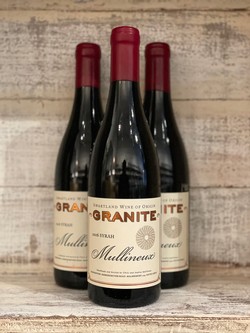 South Africa might not be the first choice for wine for most wine consumers. Though mass-produced generic Sauvignon Blancs appear in duty-free shops worldwide, the best wines stay in South Africa or perhaps make their way to London or New York, especially as many are produced in micro quantities. A few years ago, a trip to South Africa was a revelation, especially for Chenin Blanc, Cinsault, Cabernet Franc, and Syrah. The Swartland, in particular, is one of the most exciting wine regions anywhere, especially for Syrah.
After working vintages at wineries in France, South Africa, and California, Chris and Andrea Mullineux decided the Swartland wine region was their future. Located 60 kilometers north of cape town, they believed that the granite and schist-based terroirs and old vineyards of the Swartland had the potential to produce truly great wine.
Within a very short period, the winery established itself as one of South Africa's most celebrated wine brands, both locally and on the international front. By 2020 the winery had received thirty 5-star ratings from Platter's South African Wine Guide and was awarded Platter's Winery of the Year an unprecedented four times in 2014, 2016, 2019, and 2020.
The Granite Syrah is from a single parcel of sustainably farmed dry land bush vines, planted in the late 80s in the deep decomposed granitic soil of the Paardeberg. This parcel of Syrah gives the best expression of the Paardeberg's terroir – freshness and perfume. Lovers of Northern Rhone and Washington Syrah need to experience the wines of Swartland.
From the winery: This perfumed floral Syrah is the most elegant of our single-terroir Syrahs. The palate is medium to full-bodied and delicately spicy, with a silky texture balanced by fresh, natural acidity. There are notes of black pepper, violets, lilies, red berries, and herbs. With the very gentle oak integration, the elegance and length of tannin in this wine beckons aging of 15 to 25 years. Decanting is recommended when opened young.