Château Thivin "Cuvée Zaccharie" Côte de Brouilly, Beaujolais 2018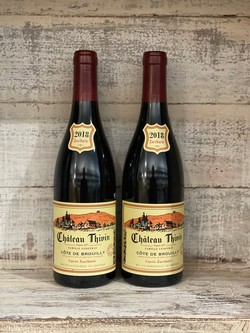 When many hear "Beaujolais," they only think of the historical pink bubblegum juice flown on the Concorde on the third Thursday of November. Definitely not what we are talking about here. Beaujolais in the past decade underwent a revolution, with many new wineries and a massive leap in quality. Today, the region is not only one of the best values globally; there are many world-class examples capable of long-term aging.
Beaujolais, located in Southern Burgundy, is produced from Gamay. A cousin of Pinot Noir, Gamay is more straightforward but is in no way less interesting. Gamay tends to have aromas of sour red fruit, red flowers, stone, and chalk and has a refreshing quality almost unmatched by other varieties. In the best areas, terroir dominates, where an experienced taster can easily distinguish the wine's origin.
The best areas of Beaujolais are called "crus." The term can be confusing in France, sometimes referring to a region, vineyard, or even a specific winery. In Beaujolais, ten villages are specified as "cru." Any vineyard in the ten villages can place the name of their town on the label. In Brouilly, there are two crus - Brouilly and Cote de Brouilly. The area is a large hill, with Broully at the bottom of the slope, and Cote de Brouilly lies on the hill. Wine rule #1 - vineyards on a hill are usually better. Vines in the Cote de Brouilly tend to ripen better and produce more structured elegant wines. Brouilly itself tends to make bistro wines for Paris.
Founded in 1743, Chateau Thivin is the top producer in Brouilly. They produce several wines, but the "Cuvée Zacharie" is considered the top wine. Blended from two plots, La Chapelle in the south and Godefroy in the east, vine age averages 50+ years. It doesn't get much better than this in Beaujolais.