Ar.PePe Grumello-Rocco de Piro Reserva, Valtellina Superiore 2015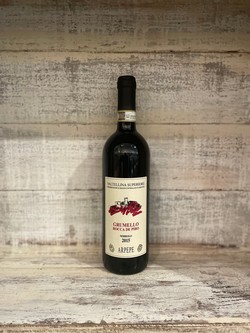 If a producer makes us excited, it's AR PePe. Our heart lies in Northern Italy and Nebbiolo. But this is a region very different than Piedmont, the Langhe, Barolo, and Barbaresco. Here, we are in Lombardy in the Valtellina region. Located near-ish Lake Como, close to the Swiss border, this is a rugged country. It's cold, and the vineyard slopes are scarily strep. Some vineyards are terraced. Workers have to tie themselves into anchors with ropes to descend the hills in vineyards with no terraces. One thing is true. If you make wine in the region, you do it for the love and passion of the land and the Nebbiolo grape, known locally as Chiavannesca. These wines are not about power and structure. They are elegant wines that display incredible aromatics and delicacy, more like Pinot Noir.
AR Pepe makes many wines from the areas of Valtellina. The region has five sub-zones, which are more or less separate hillsides running east-west - Maroggia, Sassella, Grumello, Inferno, and Valgella. Sassella, meaning stones, is the most famous of the subzones. AR PePe's holdings are between 450 - 550 meters in elevation. In the best years, AR PePe produces about 500 cases of Nuova Regina.
From the winery: "Born in 1860. Reborn in 1984. Brought up in 2004. These are the three great milestones in our history, which began at the time of the Unification of Italy. This can be seen in contemporary documents, such as those that tell of the long, unbroken business relationship with a loyal customer who, as the generations went by, continued for over a century to stock up at the winery, then known simply as "Pelizzatti".
In 1973, after many trials and tribulations, both the trademark and the actual business were sold. But this was no more than a setback, because already in 1984 our father, Arturo Pelizzatti Perego, decided to make a comeback, using his own acronym – ArPePe– and making it his declared aim to bring out the full potential of Nebbiolo from the Alps in the unique terroir of the Valtellina. Arturo regained possession of his part of the vineyards and of the premises used for ageing at Buon Consiglio. In 2004, we combined all our forces on this path, continuing his commitment to achieving his goal, which many considered as visionary.
We own 13 hectares of vineyard all standing in grass, in the heart of the Valtellina Superiore DOCG area, dotted around Sassella, Grumello and Inferno. All processes are entirely by hand, and indeed the morphology of our vineyards makes it impossible to use tractors. The frequency of plant protection treatments depends on the rains, but also these indispensable operations are carried out manually. Vines are very sensitive to the weather and winemakers know how challenging it can be to look after them. It is by no means unusual to spend 1,500 hours on cultivating a single hectare (about two and a half acres) of vineyard."