Domaine du Collier Saumur Blanc Loire 2017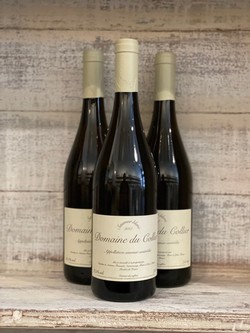 Our desire for white wine rises as spring approaches, especially for crispy, acid-driven earthy wines. The Loire Valley is the perfect place for these wines. Most wine drinkers are familiar with Sauvignon Blanc from Sancerre or Pouilly Fume. But the initiated drinker goes to Chenin Blanc, to Vouvray, Savennieres, and more recently Saumur. This region is not unknown, however. It's a world-class area for Cabernet Franc, with the most famous name being Clos Rougeard, an ethereal example of the variety. But in recent years, winemakers have recognized that Chenin Blanc can also be world-class, both complex and refreshing.
From the importer: "Antoine Foucault established Domaine du Collier in 1999 with his companion Caroline Boireau. Today they farm nearly 7 hectares of vines, produce a mere 1,250 cases of wine, and have surpassed rising star status to join the ranks of top growers in Saumur. Antoine cut his teeth at the famed Clos Rougeard in Saumur-Champigny, working with his father and uncle, Charly and Nady Foucault. Then, at age 26, Antoine set out on his own to create Domaine du Collier. Two-thirds of the estate is planted to Chenin, most of which are old vines and some pushing 100 years of age.
Antoine has remarked that while his background was in Saumur Champigny, the majority of the terroirs he currently farms are particularly suited to white wines with their stony, poor soils. The identity of Domaine du Collier is rooted in the grand whites of Chenin Blanc from the limestone-rich hillsides of Brézé.
Antoine works the vineyards organically, adamantly avoiding the use of chemical fertilizers or weed killers. The soils are worked to send roots into the chalky tuffeau, and grapes are hand-harvested with intense sorting. A natural approach is carried into the cellar with a commitment to wild yeast fermentation, extended aging of 24 to 36 months without racking in a very cold underground cellar, and zero sulfur until bottling."