Domaine de Nerleux "Les Loups Noirs" Saumur-Champigny, Loire Valley, France 2011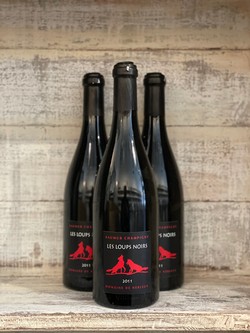 Saumur-Champigny is a red wine only appellation dedicated to Cabernet Franc. Wines from the area are not the rich, powerful, baked black fruit style commonly found in the New World or Bordeaux. In Saumur-Champigny, Cabernet Franc is herbal. Pyrazine, which makes green peppers taste like green peppers, is celebrated. The wines are fresh and light to medium-bodied, more Pinot Noir-like than Cabernet Sauvignon, from the limestone laden soils. The stone, called tuffeau, retains water in the dry seasons, allowing the vines to ripen fully. While not as famous as the neighboring Chinon, producers in Saumur-Champigny are making some of the most exciting Cabernet Franc anywhere.
We don't usually promote wines with animals on the label, but exceptions exist. Founded in 1870, Domaine de Nerleux, which means "Black Wolves" in old French, is today overseen by the family's ninth generation. Amélie Neau, the first woman to run the domaine, makes a multitude of wines, but red wine is the priority. The Loups Noirs hails from a 3.5 acres parcel planted in 1997. As you may have noticed, this wine is from 2011. The distributor came to us knowing our love for Cabernet Franc from the region. We jumped at the chance to offer fully mature Cabernet Franc at an incredible value.