Carpineto Chianti Classico Gran Selezione, Tuscany, Italy 2016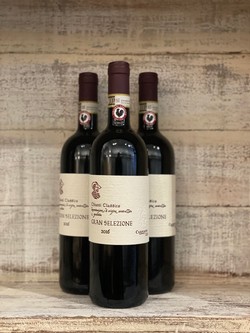 We have a mantra at Sunday Wine that the most important thing about wine is always the producer first, then the region. A stunning producer in a lesser region will always be more interesting than a lazy producer in an outstanding region. But there are some regions where all producers tend to shine, mainly because a regional pride pushes all to excel. Chianti Classico is one of these regions in which just picking any Chianti Classico almost certainly guarantees a solid bottle of wine. Note the word "Classico" is imperative here. The word Chianti alone, or various other words after Chianti can be like Mr. Toad's Wild Adventure.
Chianti Classico, sitting between Florence and Siena, is made from at least 80% Sangiovese, though many are 100%. It's a region where wine law is constantly improving, and trust us, that is a rare thing. Usually, new wine laws impede an area. In 2014 a new designation called "Gran Selezione" was introduced. The idea was a designation above "Reserva" and a way to ensure the quality of and promote a winery's best wines. Wines designated Gran Selezione must be estate fruit and are required to age at least 33 months before release. As the first wines didn't hit the market until 2017 ish, many are new to the category. The ones we have tasted have been outstanding.
This is a region we absolutely love. And truthfully, we have been drinking more wine from Chianti Classico than its better-known sibling, Brunello di Montalcino. While the best Brunello is without a match, we appreciate the freshness and focus of Chianti Classico for most dining occasions.
Recently, we featured Carpineto at our weekly Wednesday night Four Eleven Wine Shop seminar. (Every week, 6:30 pm. Reservations on Tock) The Carpineto was a standout and trumped some of the more well-known, Somm famous names. We were shocked and found a new wine to love and cherish in the region.
From the Importer: "Carpineto was co-founded in 1967 by wine visionaries Giovanni Carlo Sacchet and Antonio Mario Zaccheo. The pair set out to produce world-class red wine from Chianti Classico — a region that had once reigned amongst Kings but had, at that time, fallen from favor amid wine aficionados. The duo quickly developed an international, award-winning reputation for consistently elegant wines by adopting modern viticulture and winemaking techniques to create wines that dramatically exceeded the quality standards of the time.
In recent years, the second generation has joined the duo. They have stayed true to carrying forth the original mission, but have also broadened Carpineto's scope by expanding vineyard holdings, modernizing viticultural and enological practices, and establishing a strict, sustainable production code that features renewable energy and biodiversity. Today, experimentation goes hand in hand with the spirit of innovation of the founders with complete respect for Tuscan values.
Carpineto's Gran Selezione is deep ruby in color and exudes pronounced aromas of wild berries, interlaced with hints of vanilla and spicy notes. The palate is intense with great structure, texture, and harmony, leading to a long and lingering finish. Pairs perfectly with roasted, braised or grilled meats, like a traditional Fiorentina T-bone steak."