Château Pradeaux "Vesprée" Rosé, Bandol 2020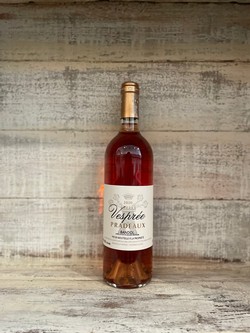 And now for a wine that we didn't even know existed until a few days ago. Château Pradeaux has long been a sommelier favorite. Located in the Bandol region of Provence, this is a powerhouse for Mourvedre made in a traditional style. Like most producers in Bandol, they also make a Rosé, which has long been our summer staple. However, a distributor recently brought us a "reserve" Rose they make - 2020 Chateau Pradeaux "Vesprée," meaning "evening" in Provençal.

In double secret probation style, Chateau Pradeaux takes equal amounts of its best of the best Cinsault and Mourvedre, pressed for 24 hours, and ages the wine in concrete eggs and large neutral barrels for a year! Aged Rose is practically unheard of in Bandol. It's so strange that the local regulators, who must approve every wine in taste tests, consistently reject it as not tasting like Bandol Rose. It's a giant rose, intensely concentrated, with deep color and secondary aromas. So instead of being labeled Bandol, it takes the Vin de France designation. But if we think back, people rejected Elvis' dancing and the Beatles' audition tapes. Coincidentally, the same guy that rejected The Beatles also rejected Jimi Hendrix.

The Vesprée is a tour du force Rosé - intense, complex with an exquisite balance of fruit and secondary flavors from a year's age. Our respected friend says that Rosé is better in "second spring." With this wine, we are in absolute agreement.