Domaine Guiberteau Saumur Blanc 2020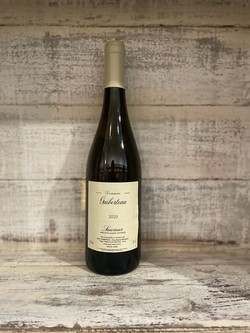 Brézé is known as the best cru for Chenin Blanc in Saumur, and to many the entire Loire Valley. Only a handful of wineries take this legendary site's fruit and spin thread into gold. One of those wineries is Domaine Guiberteau. Guiberteau came on the scene as a new winery in 1996, but they were no strangers to Saumur. The family had been farming land in Saumur since the 50's when the elder Guiberteau recognized the potential that Brézé could offer. All of the land they owned they leased to other well-known wineries. In 1996 Romain Guiberteau let the leases run out and chose to make wine from their fantastic estate.
2020 was an impeccable year for Guiberteau for their red and white wines. Today we are offering their intense Chenin Blanc from Saumur. The wine has an insane amount of minerality with the freshness of crisp citrus, and a wonderful flavor of mushy Anjou pear. Its laser sharpness makes for a beautiful drinking wine right now, but Guiberteau wines are known to be age-worthy. If you can resist try and hold out a few months to let the wine settle down a bit.