Domaine Guiberteau Saumur Rouge 2020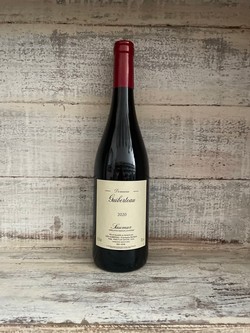 If there is a grape that we love at Four Eleven, it's Cabernet Franc. Why? It's earthy, it's herbal and it's unabashedly Cabernet. It brings some of the best parts of Cabernet Sauvignon and intensifies the complex flavors, amps the acid, and concentrates the tannins. For newer wine drinkers, it may be a shock, but will soon become a favorite variety for many. Additionally, it's a grape that can be enjoyed all year round. It's a bit of a chameleon - seeming fresh in the summer and warming in the winter.
When we think Cabernet Franc, we think of the Loire Valley - the villages of Chinon and Saumur. In the Cabernet Franc hierarchy of royalty, one name reigns supreme - Clos Rougeard. However, because of the change of ownership and winemaking style in recent years, many feel the top spot is up for grabs. We offer that Romain Guiberteau of Domaine Guiberteau is the main contender. For one, he learned everything Cabernet Franc from Naudy Foucault at Clos Rougeard. Secondly, he makes a restrained, traditional style. Thirdly, he has old vines, vital for world-class Cabernet Franc.
This is their "entry-level" wine. But there is nothing entry-level about it. The Domaine also makes a number of single vineyard offerings, but the 2020 Saumur Rouge surpasses most wines of the region by double the price. It screams Cabernet Franc with incredible depth and complexity. With less than four acres in production, quantities are minute. We will be drinking as much as possible of this in the next couple of months. Trust us, it will go fast.