Domaine Jolly Chablis 2020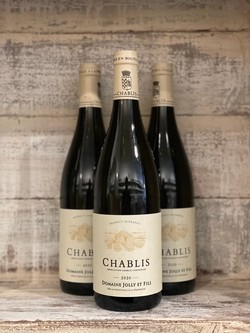 Long gone are the days of Orsen Wells hawking gallon jugs of California "Chablis" for Paul Masson, calling it 'America's most loved wine." While a few California companies were grandfathered to use the name "Chablis," true Chablis can only come from the Burgundy region of France. Orsen did kinda get one thing right - it is very loved today. If we hosted a BYOB for ten wine professionals, we would put the over/under of the Chablis bottles brought at four. Great Chablis is all about acid and earth - two components that are incredibly yummy as well as food versatile.
Located in the most northern part of Burgundy, twoish hours southeast of Paris, Chablis is Chardonnay paradise. Chardonnay loves two things - cool weather and limestone. Chablis abounds in both, producing wines with striking acidity and intense minerality. In geeky wine terms, the limestone here is called Kimmeridgian Limestone, a fossil-rich, once under the sea soil creates wines with sublime chalkiness. Fifth-grade eraser fight flashback…
When one sees the term "Chablis" on a label, the wine must be made from 100% Chardonnay. For a Chablis bottling, the classifications roughly follow southern Burgundy with village wines (Chablis), premier cru (single vineyard wines), and Grand Cru (one of seven recognized and exceptional vineyards). The one outlier Petite Chablis can be an amazing value or utterly disappointing.
Today's offering is an exceptional example of a great village-level Chablis from Domaine Jolly - 2020 Chablis Village. With four generations of winemaking experience, Domaine Jolly produces a traditional aka little to no oak style of Chablis. The Domaine's majority holdings are in Chablis itself, with 33 acres and vines ranging from three to sixty years old. The Domaine also has smaller holdings in Petit Chablis, which qualifies as stunning value, and the Premier Cru Fourchaume, which many feel should be elevated to Grand Cru.
Winemaking is thoroughly traditional, with the wine being fermented in stainless steel and aged on the lees for several months, creating a wine of incredible purity with citrus, chalk, parmesan, and bread dough. Being Chablis freaks, we taste tons of Chablis. The 2020 Jolly is both a stunner and an incredible value. A wine that definitely belongs in your cellar, the 202 Domaine Jolly Chablis is both immediately drinkable and cellar-worthy, especially rewarding those with three to five years of patience.
Tasting Note: This Chablis epitomizes purity - and that is saying something. Lemon curd, green apple, and quince race across your palate, along with that beautiful powdery chalkiness on the tongue. That feeling you got on your tongue when you were a kid having pixie sticks is the chalky minerality. The finish is long and crisp, with that feeling like when you eat an apple chip and your mouth waters for more. Then then last taste you get is like the smell of fresh oysters - the tell-tale sign your drank great Chablis.