Piedlong Châteauneuf du Pape 2012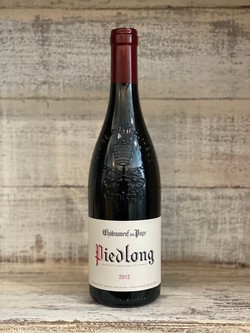 Aged Châteauneuf-du-Pape from Rhône royalty! The Brunier family of Vieux Télégraphe fame have made this special two-vineyard "Super Group" since 2011. Today you can get a ten-year-old gem to drink or add to your cellar.
What would you choose if you could piece together the perfect song like you were building a puzzle and you wanted the perfect guitar sound? What if you combined the high-toned energy of Stevie Ray Vaughan, along with the deep tone and long-held singles notes which never end by B.B. King? The Brunier brothers, of the famed Vieux Télégraphe, did just that – but with wine!
Two of the most heralded lieux-dits in Châteauneuf-du-Pape were combined to make a super guitar mashup-if you will. The Pignan Vineyard is further north in the appellation, as well as higher in elevation. The elevation is key, as the past years have been hotter than usual, and it is cooler higher up. The soil is clay-covered by river stone and is home to a 70-year-old grenache. This is where the SRV-styled zing comes from in the wine. The other component is Pignan. To the Rhône-ophile this vineyard needs no introduction, as it has a namesake which is made by the famed Reynaud family of Château Rayas. This vineyard is sandy, located on the warmer valley floor, and is home to 50-year-old Mourvèdre. This is where that rich tone, warm flavors, and richness are born – just like the King holding a bend on Lucille.
The wine is fermented using the Brunier family-style, as they do for Vieux Télégraphe "La Crau", with 50% whole cluster. Afterward, the wine spends one year in concrete, followed by another year in a large wooden foudre. After bottling they hold on to the wine for a handful of months before release, at which time it is gorgeous upon arrival – ready to drink!
Even though it is ready to drink on release, due to its rich elegance, the wine is capable of aging for twenty years. This release of the Piedlong 2012 is singing right now. It has a nose of fruity potpourri with dried flowers and spice, but the richness of the palate takes the wine to an entirely new level with power and concentration. This finish has a combination of earth from the Mourvèdre, along with a bit of zing from the Grenache which becomes savory to the last taste.