Domaine de Bagnol Rosé, Cassis, Provence 2021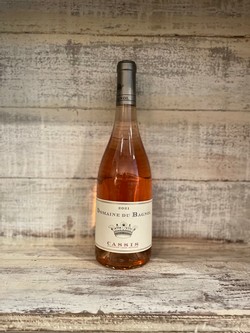 Cassis was first planted to the vine in the 12th century and the vineyards were developed on the north, east and southeast slopes that surround the village which sits immediately on a little bay on the Mediterranean; thus, the perfect circumstances for marrying wine to the bounty of the sea! Phylloxera wiped out the vineyards in 1870 but by 1892 the citizens of Cassis had re-established their vineyards but this time without the Muscatel variety.
This Domaine was owned by the same family for generations until relatively recently. The property had fallen prey to an issue that affects many long-standing wineries - the family has no heirs to take over, and sadly the wines were affected by less than optimal winemaking. Jean-Louis Genovesi, a native of Cassis who had departed for Paris and made his fame (and a few centimes as well) in the capital. Jean-Louis and his son, Sébastien, have revived the domaine and the wines, both blanc, and rosé are more compelling than ever. The domaine sits just beneath the imposing limestone outcropping of Cap Canaille and is a mere 200 meters distance from the shores of the Mediterranean. Thus situated, the Domaine du Bagnol is the beneficiary of the cooling winds from the north, northwest, and northeast (Tramontane, Mistral, and grégal) as well as the gentle sea breezes that come ashore.
The Rosé is produced from several parcels that comprise slightly less than 7 hectares of vineyards. The vineyards are clay and limestone, situated on a gentle slope with a north–northwest exposure. The blend is Grenache (55%), Mourvedre (31%) and Cinsault (14%). It is so fresh and brilliant. Flavors of dried berries, and provincial herbs. It drinks like a delicate red, but has the elegance of a beautiful rosé.