Etienne Defaix "Vieilles Vignes" Chablis 2018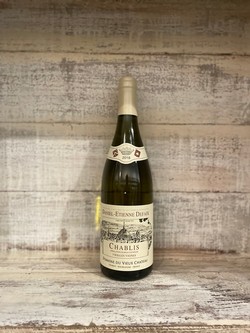 "Daniel-Etienne Defaix's ancestors cultivated the vine in the sixteenth century at the Château de Faix near Avallon, not far from Chablis. Etienne-Paul Defaix installed the family as vignerons in Chablis during the eighteenth century. Daniel-Etienne Defaix is the 14th generation to continue this long family tradition."
I think it goes without saying that this family knows what they are doing in this region. Their wines are just as impressive as their history. All of the wines are handled in the same way, regardless of their Chablis classification. The grapes are slowly pressed over three hours, then spend at least three weeks fermenting at low temperatures to extract the perfect balance of minerality and acidity. Afterward, they let the wines sit on lees for months while undergoing malolactic - this process isn't rushed as they don't want to have creamy wines. This can take months to sometimes a year. Defaix likes to release the wines after they settle a bit, so typically they come out a vintage or two behind other wines of Chablis. This old vine Chablis is drinking so perfectly right now. 2018 has richness, minerality, and freshness. The finish is like a beautifully roasted green apple. Grab some shellfish and chill!