Famille Amoreau Le Puy, St. Emilion, Bordeaux 2017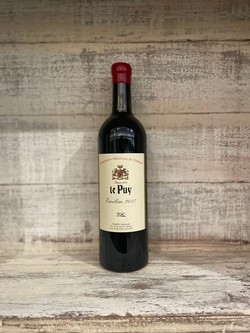 This is the closest we will probably ever get to carrying a wine that would be considered a "Natural Wine" in the context of the trend. However, this Chateau in St. Emilion has been making their wines the same way for decades, so they aren't following any trend - just making great wine.
They focus on only indigenous yeasts, no sulfur use, but great care is taken to make sure it isn't a wine full of funk. In years when it is needed, they will use sulfur, as making a wine that tastes good is more important than being a part of the current "thing". There is a wonderful richness from the Merlot in this wine, but the Cabernet Franc is truly the lead singer. The flavors of black olive, savory herbs, and a wonderful rich fruit cover your palate, with a long finish. This is classic Bordeaux at its best.