Domaine Lionel Faury "Vieille Vignes" St. Joseph Northern Rhone 2018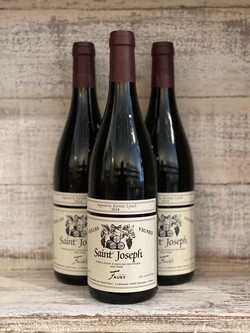 We obviously love Syrah - a lot. Both founders of 411 have many acres of Syrah planted in Walla Walla. When not drinking the great wines of Washington, we always look to the Rhone Valley, to Cote Rotie, Hermitage, and St Joseph. St Joseph might not be at the top of everyone's lips regarding the best Syrah appellations. Truth be told, unlike Cote Rotie and Hermitage, some St Joseph sites are sub-par. The region is large, twisting and turning as it follows the Rhone river south. Many vineyards are simply planted in the wrong spot - on lesser soils or facing the wrong direction. So quality is variable. However, another class of St Joseph exists. Grown in the right place, most likely at the most southern end of the appellation, near Hermitage, the wines rival or exceed the best of the Northern Rhone's most famous areas.
Before the 1950s, St Joseph was more about fruit trees than vines. Then came Raymond Trollat, who proved St Joseph was among the best. Today, properties such as Gonon, Bernard Gripa, Faury, etc carry on his legacy of great St Joseph.
As Faury makes two wines from St Joseph, it should be noted that this is the much more rare old vines cuvée from vines planted between 1937 and 1976. This is one of the benchmarks in the world of Syrah.
From the Importer: "When Philippe Faury took over the domaine in 1979, the family was selling wine, peaches, and cherries, and the bulk of their clientele was local. Over the years, Philippe expanded their holdings to over eleven hectares, and expanded sales to an international client base. In addition, he has shared his savoir-faire with his son, Lionel. In 2006, Lionel took over the reins at Domaine Faury, comfortably stepping into the role of vineyard and cellar manager to build off his father's hard work and take the domaine to new heights.
The steep hillsides of the northern Rhône present a challenging terrain where farming is only feasible through terracing. On these terraced slopes, the Faurys' vines take full advantage of the southern and southeastern sun exposure, benefitting from optimum ripening. A combination of the predominantly granitic soil, significant stem inclusion, soft crushing of the grapes with a pneumatic press, and temperature-controlled fermentation offer a liveliness and freshness that one does not often find in wines from the northern Rhône….Pigeage, the punching of the cap, is not carried out with tools, but gently by foot— not just poetic, but also pragmatic. Unlike many other vignerons in the region, the Faurys have a strong aversion to new oak. While all the wines are wood-aged, new barrels are kept to a minimum, and Lionel opts for larger formats better suited to his wines, mainly demi-muids and foudres. Hailing from top-notch terroirs and subject to minimal intervention in the cellar, these wines are loaded with classic flavors and show a remarkable rustic elegance."