Ferrando "Torrazza" Canavese, Piemonte 2019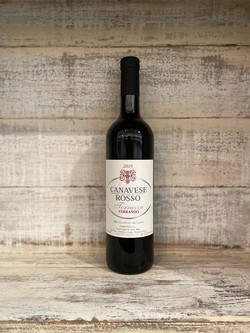 As you know we are big fans of the Ferrando wines. Their ability to showcase this tiny appellation in the foothills of the Alps is like no other. . In normal years they produce the "white label" Carema, but in stellar years AND when certain lots stand out, they produce the Etichetta Nera. "Etichetta Nera" is their black label Carema. They don't make any bad wine, but some of the juice they use for a very special wine - it is basically their "Aperitif" wine while you wait for their Carema to be ready. The wine is Canavese. This is named after the town in Carema where the vines are located. This wine is a blend of Nebbiolo and Barbera and it is a duet like Lady Gaga and Bennet - lots of bass and soprano.
This is a very limited production wine that we had offered for our wine club. When we really like something we try to find more, and just like the Brovia, we were able to get more direct from Ferrando. 2019 is a wine that has great flavors of ripe and tart berries, black tea, and amazing aromas of rosehips. It's like delicate Barolo and pretty Burgundy all rolled into one. Don't miss out on this one, because it will be gone quick.