Antoine Graillot & Raul Pérez "Encinas" Bierzo 2017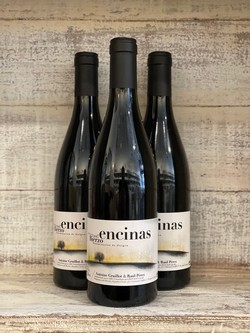 There are certain song duets that are so mesmerizing you want to hit repeat, then listen over, and over, again. "Under Pressure" is one of those which comes to mind immediately. The scale and power of Mercury's voice, with a hint of raspy Bowie in the chorus, is an amalgam of sheer genius. It's mainly Freddie, but David's addition to the chorus completes the song so perfectly it changes dramatically when he isn't in the song when performed live.
Picture this Duet:
Raul Pérez is known as one of the greatest winemakers and shepherds of Mencia in the region of Bierzo. His organic practices, minimalist intervention winemaking, and brilliance in delivering the individuality of single-vineyard sites in this tiny region can only be compared to single-vineyards in Burgundy.
Antoine Graillot is the son of the late, great Alain Graillot. Graillot founded his winery in Crozes-Hermitage in 1985 and quickly rose to fame by taking this lesser-known appellation and elevating it to the next level. Alain's recent passing caused ripples across the winemaking community because he was such a visionary, as well as an ardent activist for Crozes. However, the domain has been left in more than capable hands with his two sons Antoine and Maxime. Antoine has been the son to venture out a bit outside of the Rhône, and this is how "Encinas" has come to be.
Antoine and Raul decided to both "walk up to the mic" and create a duet of winemaking in Bierzo with Mencia that could only be a win, win outcome. Raul plays the part of Freddie, as he took fruit from three of his most well-known sites including his best vineyard Rapalao, which is located in Valtuille de Abajo. He also recommended longer skin maceration after fermentation to capture the amazing earth from the Mencia. Antoine plays the role of Bowie, adding the texture that the Graillot wines are known to have - silky smooth with a little raspiness. This came from utilizing concrete for fermentation. This was a practice which had been tried by others in Bierzo previously, but none had the expertise to know how to do it right. Add to that entire whole-cluster fermentation, and you have the recipe for having Mencia express itself in a similar way to Northern Rhône Syrah - so thank you, Antoine!
The end result is similar to "Under Pressure." There is a lot of Raul, along with just the right amount of Antoine thrown in. Dark fruits combine with some fresh red berries. The nose has a little raspy earthiness, like Brian May using a coin as a guitar pick. The palate becomes round and rich, like that of a great Crozes. The fruit becomes almost like a creamy dark cherry character with some dark earth. The finish is all Mencia, with a tart freshness and a little bit of tannin to balance it all out to "Give Ourselves One More Chance.