Hamilton Russell Walker Bay/Eola-Amity Pinot Noirs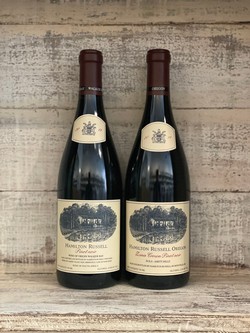 This is a rare occasion when we offer a new world wine from the United States. At the shop, we will carry a few wines made by friends, and those that represent a certain style, or regional focus with such gusto we can't not share what they are doing. In this case, we have both!
In 1975 Tim Hamilton Russell purchased an estate near the Cape of Good Hope in Walker Bay. He was looking for a cool climate area to plant grapes and hopefully make some of the best wines in South Africa. Fast forward to 1991 when Tim's son, Anthony, took over the property and realized that Pinot Noir and Chardonnay should be the only focus on the property - given the cool climate. In 1994 he took the idea of site-specific wines one step further and had an in-depth soil study done of all 300+ acres of the estate. He wasn't trying to copy Burgundy, but he did learn from how the monks delineated the land centuries ago to discover the greatness of site-specificity. It is with this knowledge he now produces some of the best wines coming out of South Africa.
We fast-forward again to the present, and another area that has spent decades working on site-specificity through many wineries, and that is the Willamette Valley in Oregon. This region started as just Willamette Valley, but has now been broken down further into many subregions, and even more with all the amazing single vineyards which are well-known throughout the area. In the Eola-Amity Hills region, there is a vineyard that has become synonymous with great Pinot Noir, and that is Zena Crown. It has been used by the top wineries in the area for years due to its perfect south-facing slope, as well as volcanic soil. It is at this spot that Anthony chose to break out of his comfort zone and make Pinot Noir outside of South Africa.
Today's offering is like listening to Eric Clapton when he plays on his classic Fender Stratocaster, as well as when he picks up his Gibson ES-355. This is a duo of tones! We are offering two different vineyards, from two different countries, which are made by the same hand in the same way. Anthonys' wines reflect elegance, aromatics, as well as capture the cool climate with perfectly ripe fruit that still has a bit of zip to it. He ties this all together with a balanced amount of new wood to accentuate the natural spice, but not mask the vineyard. Crack them both open at the same time, and you get "White Room" and "Layla" all at once!