Jean Foillard "Cuvée Corcelette" Morgon, Beaujolais 2019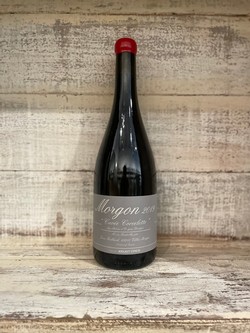 Jean Foillard is the shepherd of Morgan. Every year releasing wines that are so incredibly stellar, and when compared to the top domaines in Burgundy we wonder how they are so accessible with their prices. They not only have amazing flavor but incredible ageworhtiness. This wine and the rare "Pi" can go a decade or more.
"This estate comprises nearly fourteen hectares. Foillard's Morgons are deep, structured, and complex, with a velvety lushness that makes them irresistible when young despite their aging potential. Jean raises his wines in older barrels sourced from top estates in Burgundy, a logical decision for someone crafting Gamay in a Burgundian style. It is the passion and dedication of vignerons like this that have brought pride back to the crus of the Beaujolais."
These holdings allow Jean to make some of the best wines in the appellation. The "Cuvée Corcelette" is a vineyard located on sandstone that gives the wines great depth, and power. I have had examples fifteen years old that are still babies, yet when I drink this wine young I always smile. The complexity blows me away every time I pull a cork. The nineteen is no different - it has all the stuffing you could want like a stocking on Christmas morning.