L'Arco Valpolicella Ripasso Classico Superiore 2018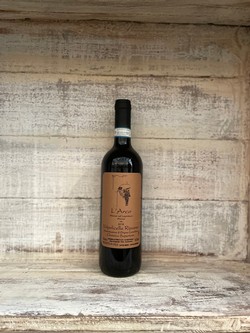 Luca Federigo is a pretty humble person and doesn't speak much about where he has been, only what he is doing. Most of his emotions and energy get put into his wines, like a chef composing a great course or a singer emoting for that perfect take on an album. But, where he has been speaks volumes about what he is doing. As a disciple of the late great Guiseppe Quintarelli Luca learned from the best. You can't mention "Bepi" without all the greatest adjectives being included - a true maestro of Amarone and Veronese wines.
Now Luca puts his energy into his own estate and like his mentor continues to push the boundaries further and further. L'Arco is named after the Arco di Giove, one of seven Arches around the town of Negrar - one of the seven areas for Valpolicella. Here he focuses on using traditional Veronese varieties: Corvina, Corvinone, Rondinella, Molinara. He also has Sangiovese on the property which he uses for some of the Rosso del Veronese wines. This is for structure on the finish, and a little bit of a kick for the aromas. He makes the classics like Valpolicella, Valpolicella Ripasso, and of course, Amarone Classico della Valpolicella. These wines fall next to the footsteps of his old mentor because they aren't in the same exact style - but on the same path. We previously offered his Rosso Veronese, which spends some time on Amarone lees. This is his full Ripasso, and has the beautifully rich flavors of his rare Amarone with elegance and drinkability now!