Álavaro Palacios "Les Terrasses" Priorat 2018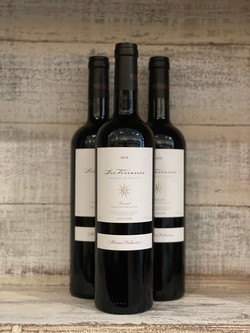 There are few wine regions where one name is associated with producing wines of all levels while having none of them be a "filler" or a "simple" wine, and at the same time being heralded as one of those to revive an entire region with not only his wines but others as well. Yet, Priorat has Álavaro Palacios!
The Palacios family is renowned in Rioja, where they have produced some of the most incredible wines for generations. Their winemaker in the '70s was René Barbier, and he was a visionary for Rioja and life. This brought him to a region that time had almost forgotten, Priorat. This small area was founded in the 12th century by the Carthusian Monastery of Scala Dei. The main village of Gratallops and the surrounding seven villages became feudal land run by the church. It was at this time when the hills of the area were terraced and planted with the best grapes of the area - many of which we know today internationally, but they mutated to create area-specific clones.
Fast-forward to René rediscovering this land, and its amazing varieties. After the region became recognized as an appellation in Spain during the fifties not much else really happened. Most of the wines were made in cooperatives, as the villages still had small plots run by the families. René brought in Álavaro, as well as a few others to run the cooperative, as well as invest in vineyards. The idea was to elevate the region and what it had to offer. Álvaro's first site was called Finca Dofi. The first release was mindblowing, yet still unknown. Finca Dofi was and still is, made with primarily Garnacha and a little bit of Samsó - the local name for Carignane. In 1993 Alvaro release the first vintage of wine from another vineyard he had purchased, and it was called "L'Ermita" after the small chapel at the top of the hill. This wine changed the face of the region and catapulted it into infamy.
Álavro continued to buy up land across all seven villages, as he noticed they all showcased fruit in different ways. He began to look at the region like the villages and crus of Burgundy - and began bottling many individually. He kept the spirit of the monks by utilizing all native grapes. He also has tried to retain the individuality of each plot and its special soils. The primary soil, and most well-known, is called llicorella. This soil is a combination of black slate, quartz, and mica. There are also variations of shist which are in different vineyards. The other main component of his crus is the aspect and climate. There are many different slopes, facing all different directions, which lend themselves to different flavors and levels of intensity. After studying those vineyards for years Álvaro decided he didn't want to be known for just high-end wine, so he made "Les Terrasses." This was supposed to be an inexpensive wine that was easy to drink. Time has changed that, and now Terrasses is more similar to how the great wines of Barolo used to be - a perfect blend of villages.
Named after the ancient terraces of the land, "Les Terrasses" encapsulates the ripeness, fragrance, and structure of all seven villages. All of his prime vineyards are used for this ethereal combination of florals, fruit, and spice. L'Ermita and Fina Dofi are some of the most difficult-to-find wines in the world. They are incredibly sought-after and have the prices to match. "Les Terrasses" is akin to buying a Ferrari, but you only have to pay the Fiat price. This wine has such a breed in its flavor that you can recognize it from the first sip. Pull the cork tonight, or in ten years.