Lopez de Heredia "Viña Tondonia" Rioja Reserva, Spain 2008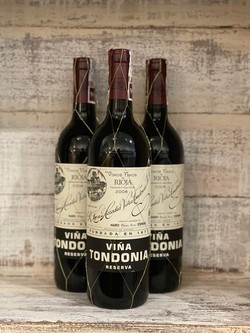 Visiting Lopez de Heredia is akin to stepping back 100 years in time. In fact, upon our first visit, our thought was, "This is a nice museum. Where is the real winery?" The building hasn't changed much since the late 1800s, with large wooden tanks everywhere, some almost 100 years old. Heredia is not like a pristine, eat-off-the-floor, spotless Napa winery. But there is magic in the mold, and the wines of Lopez de Heredia are spectacular. As with other regions like Barolo or Brunello, there is a tug of war between traditional producers and modern producers. Lopez de Heredia is a poster child of traditionalism - early harvest, large vat wood fermentation, neutral oak, earthly wines with ample acidity. New oak is never a consideration. To us, these are the most important wines being made in Rioja today.
From the Importer: "Lopez de Heredia - one of the most venerable producers in Spain– produces traditional, age-worthy Rioja. Their wines are legendary and still made the way they were when the winery was founded over 130 years ago. Following a tradition that has been passed down through generations, their wines are released at least 5-10 years after the harvest, which provides added complexity and elegance to their Crianzas and Gran Reservas.
A rarity in Rioja, Lopez de Heredia uses only estate bottled fruit from their prized vineyards- Tondonia, Cubillo, Bosconia, and Zaconia- with the idea that the only way to get the best fruit is to care for the vines themselves. The Tondonia vineyard is their most famous; over 100 hectares, it is situated in a shell-shaped depression on the right bank of the river Ebro, where the most typical Rioja wines are grown. The soil is alluvial clay with a high proportion of limestone. The average vine age is 45 years old and organic farming and natural fermentations are implemented, creating wines that exhibit great terroir. Grapes from Viña Tondonia are always used in making their highest quality wines, with truly exceptional vintages becoming Gran Reservas. The first Reserva was bottled by the founder in 1890; a few bottles of this are still kept in the family wine museum."
The 2008 Vina Tondonia is a blend of Tempranillo (75%), Garnacho (15%), Graciano and Mazuelo (10%) which is typical of a classic Rioja wine. Luis Gutierrez, Robert Parker's Wine Advocate: "The nose of the 2008 Viña Tondonia Reserva is very elegant, fresh and with an herbal twist, starting to show the complexity of the aged wines that are sometimes still too young when they are released 10+ years from the vintage! The palate is medium-bodied, with lightness and depth, very classical with extra freshness and all that is needed for a long development in bottle. This is the more Tondonia of the two vintages I tasted side by side. There are notes of maple syrup, smoke, licorice and crisp fruit. The palate is more austere, crunchy and reveals the chalkiness of the soils. There's more definition and precision here." 95 pts