Mas Jullien Rosé, Côteaux de Languedoc 2021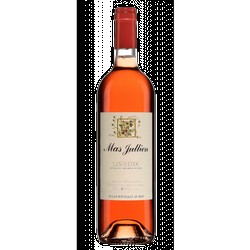 Occasionally, we find a lot of wine that provokes discussion among the staff. Now about wine quality, more like, "Should we send out a release about this wine telling people it exists?" Some wines are very well known and impossible to find. Others, like today's release, are known mainly to wine professionals and are just as hard to acquire. Should we spread the word and make the wine even harder to find? Today's release was so challenging to find that we decided to wait until we physically had the wine in-house before believing we were receiving it. One of us said, "No way that wine is showing up." Today, we offer the unbelievable - 2021 Mas Julien Languedoc Rose.

The Languedoc is not a region that sommeliers typically seek out. It's mostly a warm Mediterranean region with high alcohol wines based on Grenache, Carignan, and Mourvedre. While the wines can be pleasurable, they are not typically profound. Better values are often found in the Southern Rhone or Spain. However, a few appellations in the area excel, either at higher altitudes or benefiting from the coastal breezes. Terrasses du Larzac, with vineyards at 900 meters, is one of these regions where deft winemakers can coax freshness, intensity, and complexity. The top estate in the Terrasses du larzac is Mas Julien.

Established in 1985, Mas Julien is a relative newcomer. At the age of 20, Olivier Julien convinced his family that making their own wine instead of selling to the local cooperative would be a better option. At the time, the Languedoc was a disaster economically and not known for quality wines. It was pretty much a wine wasteland. It would take a true visionary to see the future and potential of the region at that time. Not only did Olivier turn the family vineyards into estate wines, but he also purchased additional soil-specific sites. The locals must have thought he was insane. In hindsight, Olivier made a fantastic decision, as Mas Julien is probably the most well-regarded and hardest to find wine in the Languedoc and all of France. These are wines of grace, complexity, and pure joy.

This traditional estate consists of 15 hectares, planted mainly to Carignan, Syrah, Grenache, and Mourvedre. From the importer's website: "Olivier's philosophy regarding the role of the different grape varieties is less concerned with the individual expression of each grape than with its contribution to the balance of the final wine after fermentation. He uses Carignan for its freshness and body, Cinsault for finesse and delicacy, Syrah for its aroma and color, Grenache for its breed, complexity, and spice, and Mourvèdre for its race and structure."

The early offerings from the estate were a couple of reds and a white. Their main wine, the exquisite, Mas Julien Coteaux du Languedoc Rouge, pairs Mourvedre with Syrah and old vine Carignan. It is the benchmark wine of the region. We hope (fingers crossed) to offer it later this year. Over the years, as Olivier has learned the vineyards, he also added a rose and a few vineyards or variety-specific cuvees.

The 2021 Mas Julien Rose is our favorite rose release to date, along with the rose we will offer next week! We consistently tout the best rose is from a specific vineyard intended at the start for rose, but amazingly, this is a sagnee blend - rose taken from a wine destined to be red during fermentation. So much for conviction. Olivier isn't always forthcoming with the specifics of his wines, but we know this is historically based on varieties in the following order: Cinsault, Carignan, and Mourvedre. It's a structured wine, especially for Rose, fermented in stainless steel and aged in neutral Stockinger foudre, aka huge barrels.

To close - we can't believe we are fortunate enough to offer this wine. Its stunning rose - is among the best in the world.