Matthieu Barret "Petit Ours" Côtes du Rhône Syrah 2020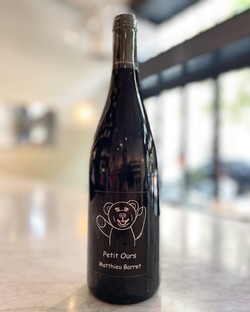 Matthieu Barret has been turning heads in Cornas for a while now. In a region that has a look and feels of rusticity in everything they do from labels, cellars, and winemaking, this man is doing a 180. He is farming all of his vineyards organically and biodynamically. He didn't stop here. He firmly believes that a vine is happier in its own biome than in a desert of just vines. "Vines and the forest, meadows, and woodlands." is a way of life for him. Since his time of winemaking in Beaune, Burgundy, he has built this belief system and strongly upholds it. He also felt that too much wood is being used in the process of winemaking. Now he only does extended aging in concrete eggs.
The "Petit Ours" is Côtes du Rhône, but one that gives you the essence of his wines. Whole cluster fermentation brings out the aromatics of the wine, as well as the freshness. This 100% syrah has amazing flavors of dried blueberry, violets, and a hint of black pepper-jerky. If Ferrari made an entry-level car that felt like its GT, than the "Petit Ours" would equally show you what his Cornas' would be like!