Pauillac de Château Latour, Pauillac, Bordeaux 2017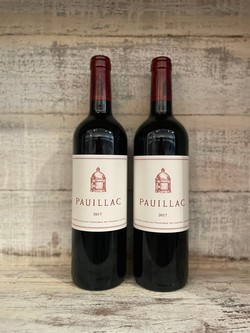 Iconic luxury brands - Hermès, Rolex, Lamborghini... Whether you can afford them or not, these are names everyone knows. These names also exist in the wine world - Cristal, Romane-Conti, and First Growth Bordeaux. In 1855, sixty-one chateaus were ranked from first to fifth in preparation for the Paris Worlds Fair. Four properties were considered elite or "First Growth" - Lafite, Margaux, Haut Brion, and Latour. Astute readers might know there are now Five First Growths. Mouton was elevated at a later date.
Many think the First Growths are produced in minute quantities. While they are challenging to acquire, they aren't exactly small wineries, being made in quantities from 10,000-25,000 cases. Chateau Latour produces about 10,000 cases a year. However, this is a huge however, that only represents about 40% of their production. So the question is - what do they do with the rest of the fruit? Many wine drinkers have no idea that these properties make other wines at a fraction of the cost of their "top" wine while still employing the same vineyard management and winemaking team that makes their best wines so phenomenal.
Chateau Latour produces three wines - its namesake Chateau Latour, Laforts de Latour, and the relatively new Pauillac de Latour.
First made in 1989, the Pauillac de Latour is a stunning wine that, while will age, is crafted to drink well young. And we know most people can't wait 10-20 years anymore. The wine hails from declassified barrels of Laforts de Latour and younger wines across the Latour properties. The identifying marker for Pauillac de Latour is its large percentage of Merlot, rare for a Left Bank Chateau. The Chateau generally ages the wine in about 20% new oak.
The 2017 Pauillac de Latour is a stunning value from an iconic property. It is an opportunity to drink among the elite at a fraction of the price. Quantities are minimal. We think this wine will make it to both our Thanksgiving and Christmas tables.
"Medium to deep garnet colored, the 2017 Pauillac de Château Latour is a little shy at first, soon opening out to offer subtle notes of pencil lead, charcoal, and fragrant earth over a core of ripe black currants, black raspberries, and bay leaves, with a hint of wood smoke. Medium-bodied, the palate is still very youthful, offering vibrant black fruits wrapped in an elegant and refreshing structure, including approachable ripe, fine-grained tannins. The finish delivers good length and compelling purity. I like it now - on the fruity side and in this flush of vivacious youth - but for those who prefer a mature fruit cake and cigar box style, give it a good 5-6 more years in the cellar and enjoy it over the following decade. The grape composition is 52.9% Cabernet Sauvignon, 39.9% Merlot, and 7.2% Petit Verdot, with an alcohol of 13.4%. 2022-2036"
Lisa Perrotti-Brown MW, The Wine Independent, March 2022