Pintia, Bodegas Vega Sicilia, Toro 2016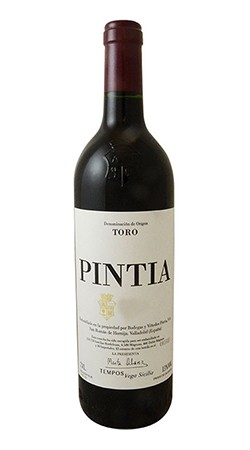 Vega Sicilia is a winery that really needs no introduction. It is lauded as one of the greatest wines in Spain, and typically on collectors' top ten lists of greatest wine experiences that they have ever had. A few decades ago they expanded with the winery Alion, in Ribera del Duero. An entirely new estate, as Vega Sicilia doesn't believe in second wines. These masters of Tempranillo then went further down the Duero river into the little-known appellation of Toro. What was known though was that the Tinto del Toro, tempranillo, was powerful and mighty in this region. They not only put the region on the map, but they also grabbed the Toro by the horns. Pintia is now heralded as all the other wines from Vega Sicilia - Stunning!
Depending on the characteristics of the vintage, the barrels are 70% French or 30% American oak in origin, and the wine remains there for approximately 12 to 15 months, before being bottled. The time in the bottle will never be under 12 months prior to the wine being released on the market, as the accumulated experience indicates that that rest makes the wine blossom. 2016 has gotten praise from all over as one of the purest examples from this winery. We are lucky to get 12 bottles of the only few hundred cases which come to the United States.