2018 Planeta "Eruzione 1614"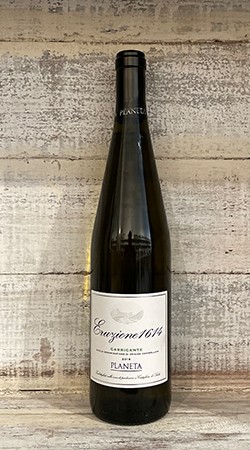 The wines of Mt. Etna have had a lot of exposure in the last handful of years and it is for good reason because the wines are stellar!! The area has a little something for everyone, except the big, oaky styles of white or red. For the red wines, the primary grape is Nerello Mascalese - if you mixed fresh Nebbiolo, Pinot Noir from Beaune, and Southern Rhône Grenache you would get this grape. Some wineries also choose to blend in Nerello Cappucio for fruit, but the Mascalese is the primary focus.
White wine you have the almighty Carricante. It's a crisp and refreshing variety that carries minerality like Chardonnay from Chablis, and Assyrtiko from Santorini depending upon where it is grown on the volcano. Speaking of Volcanoes... This wine is from a special vineyard on Etna. Most of Etna is volcanic soil, but not all volcanic soil is created equal. It all depends upon the location, the lava flow, how it was formed, and what the lava is comprised of (different rocks make different lava). This vineyard is called "Eruzione 1614" for a reason. An eruption started in 1595 and continued until it ended in 1616, and this lava flow created a shelf where this vineyard is now located. Planeta is a master in Sicily, with a small winery in each major area making minute quantities of the wines - this includes their Feudo di Mezzo winery on top of Etna. Here they grow Nerello Mascalese, Carricante, and a minute amount of Riesling, which I would love to get my hands on. But, I am incredibly happy with getting this Carricante, because the quantities are beyond small for the production. We offered this wine in our first club, and we had a little bit left. Most who have tasted this wine have compared it to great Premier Cru Chablis, but with more mineral intensity if that is even possible. It has a beautiful lemon curd character, along with vibrant green apple, and a fierce intensity that makes you want to keep taking another sip. This is a truly special bottle and one you should jump on quickly because I doubt I will have the same opportunity again with this wine.