Produttori del Barbaresco Cru Sampler 2017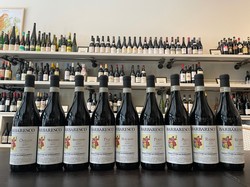 Produttori del Barbaresco has a long history going back to the 19th century. What began as a church-like gathering to produce the wine of the village turned into a cooperative for the town. In 1958 the Produttori del Barbaresco was formed and became the place for the village to produce wine from vineyards where the owners didn't, or couldn't, make their own wine. This was also a time when Barbaresco wasn't what we know today. It was a poor area and the people wanted to make the wine of the village - this was only 13 years after the war. Slowly the cooperative gained a reputation for making wonderful wine from Barbaresco and in 1967 they started bottling wines from the individual crus of the village. The crus of Barbaresco is similar to that of Burgundy, as most are fractionally owned by many different families.
This is an incredibly rare offering of all nine crus that the Produttori makes and bottles. These wines are heralded each year as being some of the best in the region, and thankfully they don't cost nearly as much as many of the top wineries. The 2017 vintage followed one of the prettiest vintages of late, 2016. Whereas the 2016's showed elegance, fragrance, and finesse, it is 2017 which is more brooding and powerful. 2017 is a complete juxtapose, but just as amazing. The wines carry the power you hear about in most Barolo - so these are wines that will be around for a long time. One winery, nine crus that are made the same way. A true treat for the cellar in this rare lineup. We only have three!