Régis Minet "Vielles Vignes" Pouilly Fumé 2020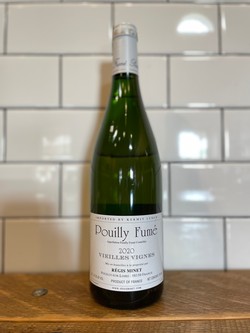 For the first time ever, Sauvignon Blanc is having success globally, not just in the wines of Marlborough, New Zealand. Many people's palates have moved to fresher varieties and styles of winemaking instead of the rich, concentrated, heavily oaked white wines. We see that in the shop, as more people are drinking crisp varieties from Italy, Greece, Austria, Germany, and France. Included in France is the true home of great Sauvignon Blanc - the Loire Vally.
Sancerre and Pouilly-Fumé are the gold standards for the purest examples of Sauvignon Blanc with both fruit and mineral intensity. Sancerre has pure chalk Kimmeridgian soil which gives its zing-like texture. Just across the way is Pouilly-Fumé, which also has the beautiful Kimmeridgian soil but also flint mixed in. This additional layer of soil adds a great intensity level to the knows - one which is like using a firestarter while camping.
Régis Minet is a second-generation winemaker at what was his family's estate and is now his own. With forty harvests of experience, he knows the land and has the ability to morph with the years. In a time when many are pushing ripeness to fit into a specific profile, he works the wine to fit the land - keeping true to the classics of the region. His wines have intensity, a lean, dry citrus rind character, along with a zip of terroir which almost makes the center of your tongue numb. In my years of building wine lists, it is a wine that has always been a staple because it is such a standout from the Loire - period. Another perfect porch sipper which goes with all the amazing spring and summer vegetables, any type of goat cheese, and yummy smoked fish.