Le Roc des Anges "1903-Carignan de Schistes" Roussillon, France 2018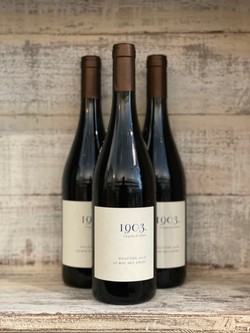 Now for something completely different - the Roussillon, a rugged area of mountains and beaches on the Spanish border. There is a fascinating history to the region. Rumors abound that the Phoneceans brought vines to the area around 600 BC. Many think the Roussillon is the birthplace of Grenache, the found grape of the Southern Rhone.
Historically known for sweet red wines (like Port), today, a revolution is occurring with young winemakers from other areas flocking to the area to set up shop. Today, the wines are brighter and fresher than in the past. This wine features Carignan, from a vineyard planted in 1903. We were once on a carignan seminar, and the majority consensus was that Carignan needs at least 50-year-old vines to be interesting. It's fresh, fruity, and borning in young vines, suitable only for a blend, usually with Grenache or Mourvedre in France or Tempranillo in Spain. It becomes aromatic and complex with fresh berry, licorice, and meaty flavors with age. This is a profound example of the greatness of Carignan.