Sigalas Santorini Assyrtiko 2019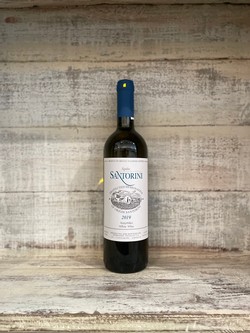 The wines of Greece have had a period of popularity that they never had before, and it is well deserved. To many, they were thought of as souvenirs or something you would just have at a Greek restaurant. Or, people would think of Retsina as the wine of Greece and that brings back thoughts of something brown and smells of Pinesol. All of this couldn't be further from the truth. The wines have been competing on the world stage of wine for years now.
My first trip to Greece to visit wineries was almost 20 years ago. Back then we only saw a few wines of high quality coming into the US. When I visited I could see the greatness, and the potential of every single winery visited. The country's wine regions are incredibly diverse, and every single place has indigenous varieties that sing about the area they are grown. One of the most incredible places in Greece to showcase their individuality is Santorini and their grape, Assyrtiko. Assyrtiko is a special grape, as it gets ripe and retains its acidity-which is rare. What that does is allows the special minerality of the island stands out - always!
Assyrtiko is like a Stradivarius, as it has the perfect tone and is like no other. However, like a Stradivarius, you need the right person to really show why it is the best, and that person is Paris Sigalas. Paris has been pioneering the wines of Santorini for decades. He took Assytiko to new heights with his winemaking style, which I can describe only as "Pure". He also makes an oaked version of the wine, and both oaked and unoaked showcase the amazing volcanic terroir of the island. Tasting a vertical of 12 vintages, oaked and unoaked, I was stunned by all the wines I was comparing it with. For unoaked I was mentioning the top Grand Cru of Chablis, and for the oaked, I was talking about wineries like Haut-Brion and Mission Haut-Brion. There is an intensity of fruit that sticks out on the nose, which combines with an intense flintiness - reminiscent of striking a fire starter. The texture is like lemon curd with a beautiful chalkiness that lingers on the tongue, and the finish stays for what feels like a decade.
A wine like this competes with the top whites in the world, and thankfully it doesn't have its price. This will become an addition to your list of favorites.