Siro Pacenti Brunello di Montalcino Vertical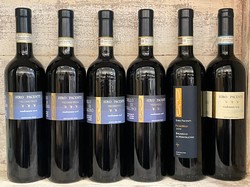 It isn't often when a new winery starts in a location that is known for tradition, let alone begin and rise to the top of the ranks - such is the story of Siro Pacenti. In 1970 Siro purchased property north of the town of Montalcino, in Pelagrilli. Here he planted vineyards on the clay soils facing north to the town of Sienna. However, as an individual in pursuit of excellence, the first wines weren't bottled until 1988, which gave time for the vines to reach a maturity level worthy of Brunello. Siro's son, Giancarlo, had taken over the day-to-day at the property and he bottled both Rosso and Brunello di Montalcino.
In the early nineties, they added a new gem to the property from the town of Piancornello. This new gem was vineyards south of the hill of Montalcino. These vineyards are planted to mineral-rich soil with a base of marine layers. The appellation of Brunello di Montalcino is a mosaic of soils, which range from clay, sand, schist, mineral, and marine. Much of the house styles of wineries are based on where their vineyards are planted. The flavor and textures of the final wines showcase the vineyards they are planted on. In the case of Siro Pacenti, it gave them the next flavor component to blend for their wines so they could mix power and elegance.
There are two main bottlings for their Brunello's. The first is the Pelagrilli. This wine is made from their "younger" vines, which happen to be at least 25 years of age. The second is the "Vecchie Vigne", which is made from vines 35 years of age and older. They also produce a Rosso di Montalcino that they make from their younger vines that are 25 years and under. Unlike many wineries in the area, Siro Pacenti uses the same vineyards for their Rosso as they do their Brunello.
In a rare occurrence, the winery has released a vertical of past vintages of their Vecchie Vigne, so we are offering this to you. For our Friday Five, we are doing a Friday Five +1. This six-pack is the '12, '13, '15, and '16 of the Vecchie Vigne, as well as the '16 Pelagrilli. To boot, we thought we would add the Rosso to Montalcino from 2019 to have a wine to drink while you watch these babies grow up. There are only four of these available, so act fast. They don't make a lot of wine, and they hold even less of the back vintages. Ciao!