Spottswoode "Lyndenhurst" 2019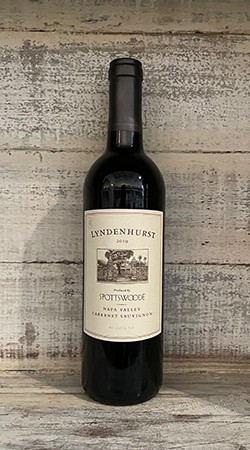 To speak of Spottswoode Estate in the Napa Valley is to speak of the Fender Stratocaster in the context of classic guitars - they are a piece of history that is still incredibly influential today. The Estate itself goes back to 1882 and was founded by the Spotts family, but it wasn't until the Novaks purchased it in the seventies did it become an icon of Napa Valley. The first vintage was in 1982 almost to the day of the centennial of the estate. Mary Novak took the helm and elevated the Cabernet Sauvignon, and a little bit of Sauvignon blanc, to a status held by only a few.
Today the winery and operations are managed by Mary's Daughters, Beth and Lindy. Since I first experienced their wines almost 30 years ago they have been the faces of Spottswoode, as well as the amazing things women have been doing in the Vally for over four decades. As per usual the Napa Valley isn't a normal offering, as we like to offer wines with old-world flare. This Cabernet Sauvignon is a true treat to have. The Lyndenhurst is from their Estate, as well as vineyards in the area. It is named after the Linden trees which grow on the property. To describe this wine is unlike describing much of Napa, which is Fruit, more fruit, even more fruit, and new oak. This wine has fragrances of berries, cedar, spice, olive, and integrated wood spice. This is a rare keeper from Napa Valley that will age but it is also as welcoming as the women who make the wine - it welcomes you with a smile.
Wine Specs
Varietal
Cabernet Sauvignon