Terrebrune "Terre d'Ombre" Vin de Pays de Mont Caume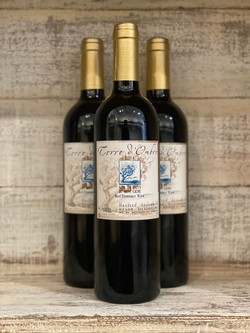 We think about Mourvèdre - a lot. It's at home in Washington and might just be our best variety. It's a unique variety. Many varieties are seasonal, best consumed as the heat of summer comes or as the cold of winter approaches. But Mourvedre, for whatever reasons, excels in the summer heat and in the frost of winter, capable of pairing with lighter seafood dishes and the heartiest stews and cassoulets. When we see Mourvedre in the vineyard, we are consistently amazed. Even on the hottest days, the sugar barely moves. Also, most "warm weather varieties" and Bandol is on the Mediterranean coast, usually showing purple and black fruit in the wine. But Mourvedre always seems to retain a sense of red fruit, traditionally reserved for cooler climates.
Mourvedre's native home is in Southern France, along the Mediterranean Coast. Think beaches and yachts. Many are familiar with the "big names" of Bandol - Tempier, Pibarnon, or Pradeaux. These are exceptional, world-class wines, but at the second tier, several Domains are exceptional and a fantastic value. Enter Domaine de Terrebrune.
In 1963, after a few years as a sommelier, Georges Delille bought a property in Ollioules, just east of Bandol. He spent ten years restoring the property - rejuvenating the soil, cutting terraces, planting vineyards, and building a cellar. Let's say he also got some great advice from Lucien Peyraud, the founder of Domaine Tempier. They dedicated the vineyard to primarily Mourvedre with a bit of Grenache and Cinsault.
In 1980, Georges's son Reynald joined the Domaine, who steadily gained a reputation for wines of ethereal finesse. How do they achieve such freshness? First, from the abundance of limestone, specifically Trias limestone, in the soil. In the wine world, limestone equals freshness (and yummy-ness). The vineyards are also dotted with brown clay or "Terrebrune'' in French, which adds to the elegance of the wine by retaining water during the hot summers. Secondly, the best properties in Bandol can "see the sea." Terrebrune is no exception, with a steady breeze blowing from the Mediterranean, cooling the daytime temperature and preventing mildew.
Today, particularly with recent financial investment from a prominent French businessman, Terrebrune is knocking on the doors of the great Bandol estates. It won't remain undiscovered for long. Unfortunately, discovery usually means price increases.
Our wine today, one of the best values we discovered in 2021 and a by-the-glass offering at Four Eleven in Seattle, is made from the younger wines of Terrebrune's vineyards. The wine labeled "Terre d'Ombre" is spectacular. Composed of 80% Mourvedre, 10% Grenache and 10% Cinsault, the wine is perfect for Tuesday dinner as well as a celebratory Sunday supper.